First, let's quickly go over what Amazon FBA is. FBA stands for Fulfillment By Amazon, which means that Amazon handles the storage, shipping, and customer service for products sold on their platform. This service is particularly useful for sellers who don't have the resources to handle these tasks themselves, as it can save time and money.
Now, let's dive into the process of creating an FBA shipment
Set up an Amazon Seller Central account:
The first step in creating an Amazon FBA shipment is to set up an Amazon Seller Central account if you do not already have one. This account will serve as the hub for all your FBA activities. To create an account, go to Amazon's website, click on the "Sell on Amazon" link, and follow the prompts to sign up.
Create your product listings:
Once you have your Seller Central account set up, the next step is to create product listings for the items you want to sell. You can do this by going to the "Inventory" tab and clicking on "Add a product." You'll need to upload pictures and write descriptions of each product, as well as set the price and shipping details.
Prepare your inventory:
Before creating an FBA shipment, you'll need to prepare your inventory for shipping to Amazon's fulfilment centres. This means ensuring your products are correctly labeled, packaged, and ready to ship. You'll also need to make sure that your products meet Amazon's product requirements and restrictions. Some of the things you'll need to do include:
Label each item with a unique identifier (such as a MRP Sticker, barcode)

Pack your items securely to avoid damage in transit
Print out box labels and fill out the information accurately
Ensure all products comply with Amazon's guidelines for restricted products (e.g., hazardous materials)
Create a shipment plan:
After preparing your inventory, the next step is to create a shipment plan on Amazon Seller Central. The shipment plan will help you specify which products you want to send, how many units of each product, and the fulfillment center you want to send them to. To create a shipment plan, follow these steps:
Go to the "Manage FBA Shipments" page in Seller Central
Click on "Create a new shipment"
Follow the prompts to select your products, quantities, and fulfillment centers
Select your shipping carrier and preferred shipping method
Review and confirm your shipment details
For Creating Delivery Challan enter all the details here:

Generate shipping labels:
Once you have created your shipment plan, Amazon will generate shipping labels for your boxes, which you'll need to print and attach. You will also need to print and attach box content labels, which list the products in each box. Amazon requires that you use the correct label type and size for each box, so make sure you read their guidelines carefully.
Generating Labels for All Stock.
Generating Label for Main Packaging Box:

Pack and ship your products:
After you've generated your shipping labels, it's time to pack and ship your products to Amazon's fulfillment centers. Use the boxes and packing materials that Amazon recommends to ensure your products arrive in good condition. Some tips for packing your products include:
Use sturdy, corrugated boxes
Use packing materials like air pillows or bubble wrap to cushion your products
Make sure each box has a content label on the outside and shipping label on the top
Choose a courier company:
Once you have created your shipment plan, you'll need to choose a courier company to transport your products to the Amazon FBA warehouse. If you want to let Amazon handle everything then we will suggest you to go with ATS(Amazon Transportation Service). Otherwise can choose a courier company based on factors such as cost, delivery time, and location.
Set your Pickup Date and time according to your preference.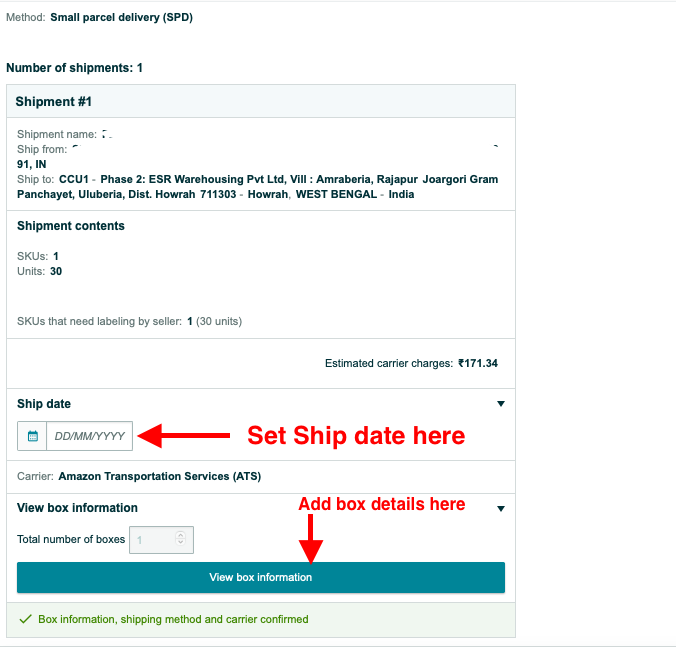 Pack your products and send your shipment:
After you've printed your shipping labels, you can pack your products and send your shipment to the designated Amazon fulfillment center. Make sure to pack your products securely and include any necessary packing materials, such as bubble wrap or packing peanuts.
Track your shipment:
Once you've shipped your products, you can track your shipment on Amazon Seller Central. Amazon will provide you with real-time updates on the status of your shipment and the expected delivery date. You can also see if there are any issues with your shipment, like if any items were damaged during transport.
Monitor your inventory:
Once your products have arrived at Amazon's fulfillment centers, you can monitor your inventory levels on Amazon Seller Central. You can also view detailed reports on your inventory, sales, and fulfillment performance.
Thanks for Reading.