What are your plans for 2020? Are you still planning to sell but figuring out the right way to launch? Today we have Akshay who has been part of online selling from the past 1 year. Akshay is 26 years old born in Kerala and a college graduate. By going through videos and tools of AMZ Blast he has created his private label brand with multiple products. Through his hard work and dedication, Akshay made it all possible. For his privacy, we are not revealing his product, niche.
Look at its sales summary for this year.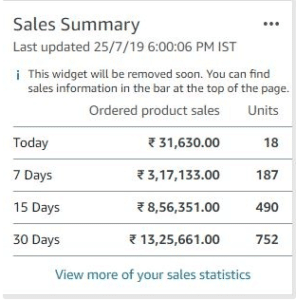 This is what Akshay says,
I have to be honest the journey was not EASY!! Your listings will be hijacked by other sellers, competitors will leave negative reviews in purpose. And I have to say I could not have survived in this business without the help of AMZ blast. There were days that I have called them more than 10 times a day. For most of the problem that you will face in this business, AMZ blast mentors will have solutions already tried and tested. I was surprised to receive calls from them to make sure that I have overcome it. This is one thing that I will say will make them different from others like jungle scout. AmzBlast Cares!

Who do you think will have a better understanding of the Indian market & Indian Customers and help you out if you face a problem in business? A Indian Company like AMZ Blast ( who have made many successful sellers in India) or US based companies who don't even have an office nor the experience selling in India.
Watch the video HERE –
犀利士

ive_padding" style="padding: 56.25% 0 0 0; position: relative;">
He talked about his journey with AMZ Blast and how he handles product packaging, imaging and importing the products. He has revealed plans for 2020 which we all sellers need to focus on. This conversation will let you know that doing business in amazon is easy. You need to understand the process and time you need to put in. Sellers like Akshay putting a lot of time and effort to build their own brand. these sellers know that business involves some risk so they take a calculated risk. This is what new as well as existing sellers need to focus
Understand the business model: Training videos will always let you know what steps you need to take care of to be successful on amazon.
Work on Product Packaging: If you're creating your own private label then make sure you are doing customized packaging so that customers can clearly see your brand name.
Import product: You can easily find a manufacturer from Alibaba and import can be good. Have all the documents in your hand and calculate custom duty.
Work on content: After product launch to you can find YouTubers, Bloggers, and influencers. Make sure you have the right audience that can purchase your products.
This coming year is all about building your brand and long term business. If you are ready to expand your business and want to work with us then this is the best time to start. Have a happy and successful New Year!