AMZ Blast is committed to facilitate all our members to provide every service which they need to embark and propel their business. In this series we are now established a dedicated GST desk for all our 犀利士
members which will help members to easily get GST number from us.
We are charging 2500 for proprietorship GST.
To get your GST login into you Dashboard area, there on the left side menu you will see a new sub-menu called "Get Your GST No"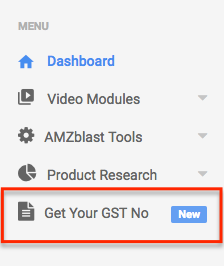 Once clicked, it will take you to GST request page where you just need to click on button which will immediately send your GST no request to our dedicated GST desk.
Follow email sent by our team and provide all the documents. After document verification we will process your GST request and send you link to pay for GST charges which will be INR 2500/- .
We will take 1-2 week to provide your GST no or GSTIN.
Here are list of documents that we need while filling your new GST application.
Contact us on gstdesk@amzblast.com to know more abo犀利士
ut it.