Have you ever had a dream of building your own brand? Do you know how you can make maximum profit while selling online? Or why selling product under your brand name is better than selling establish brands?
To get the answer of all these questions you have to understand certain things. The first and the foremost is that if you have planned to start your online business, you should start from online marketplaces such as Amazon. And the second is to go with a private label instead of owing a brand's franchise.
You must be wondering what is a private label brand? And why you should be bothered of establishing a brand when you have easy access to best brands in the market. You can sell the products and keep your margin. That's it. Right? No. Wrong. Here are few reasons why you should not go for name brand.
Reason to Avoid Selling Name Brands
Selling other brand's product would only bring you money and that also up to a certain extent. When the competition will increase and someone else will provide the same product at better price margin, customers will choose him over you. It is because they can compare the product quality very easily.
Here is a simple graphical representation of what it looks like when you sell name brands.
Most branded companies follow a typical hierarchy where the entire supply chain is fragmented at multiple levels. There will be a national marketing division followed by state distributors, C&Fs, wholesalers and retailers. Every level will add up its margin to the selling cost. By the time it will reach you, you will be left with a friction of margin.
With a name brand:
You have to pay high franchise cost
You have to face high competition
Compromise at low margins
Follow rude company rules
Invest in stock
Input a lot of time and efforts in marketing
Let's understand it with an example. In the image, Sandisk is selling the micro SD card at a slashed price of Rs. 845/-.However, the page is showing 33 more sellers offering the same product at different prices starting from Rs. 799/-. now, when you know that the product is same and the sellers are offering it at different prices, you would definitely go for the lowest one. And the sellers with higher price range will automatically be out of competition.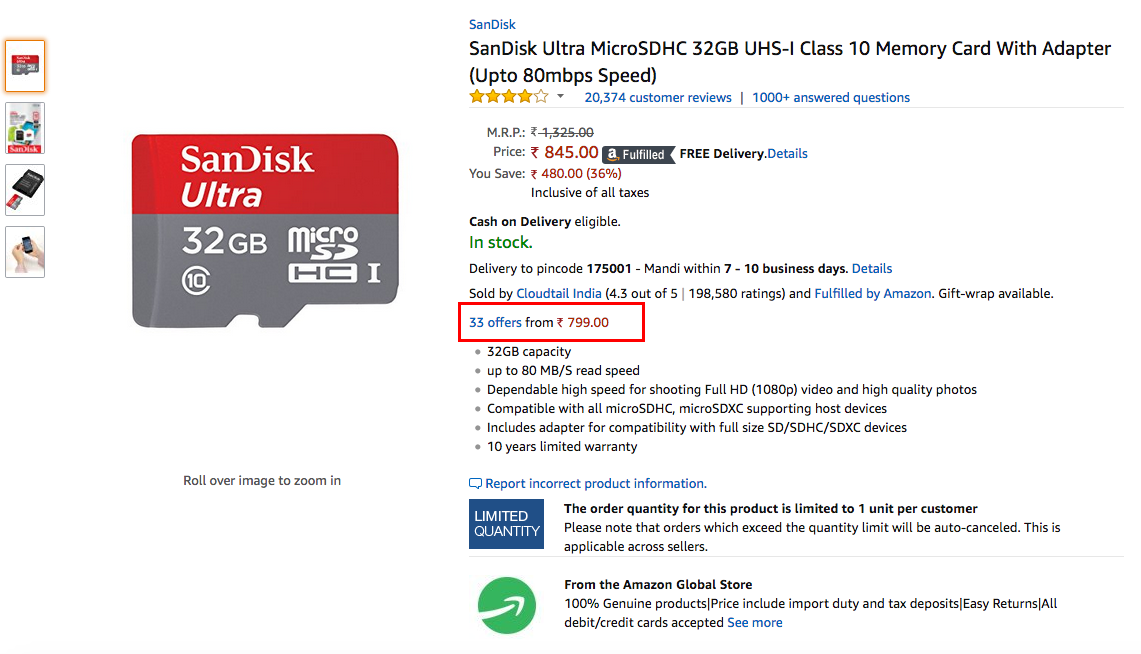 We wonder why you need to invest all your time, efforts and money in promoting someone else's brand when you can invest half of it in building and establishing your own brand. Do not get surprised as it is possible and more effective then selling other's products. Imagine everything is of your choice – product, label, packaging, MRP and profit margins. To enjoy these benefits, you only need to focus a little on private label.
What are Private Label Products?
Private Label products or 'Phantom Products' are goods manufactured by any third-party manufacturer only to sell under a retailer's own brand name.  As an excellent selling model in recent times, it is attracting more sellers than ever. In one of Amazon's Seller Survey in 2016, it has been found that out of 1500 sellers more than half of them sell private label products and approx 17% sell only phantom products. The figures will definitely go higher in 2017 and 2018 as more businesses in India are going online to make more money.
Here is good example for Private Label Products. In the image, ZAAP is selling iPhone7plus case. It has listed all the features as well. If you have noticed, no other seller is offering the same product with all the listed features. You have no option to compare the product and you can buy it exclusively from ZAAP.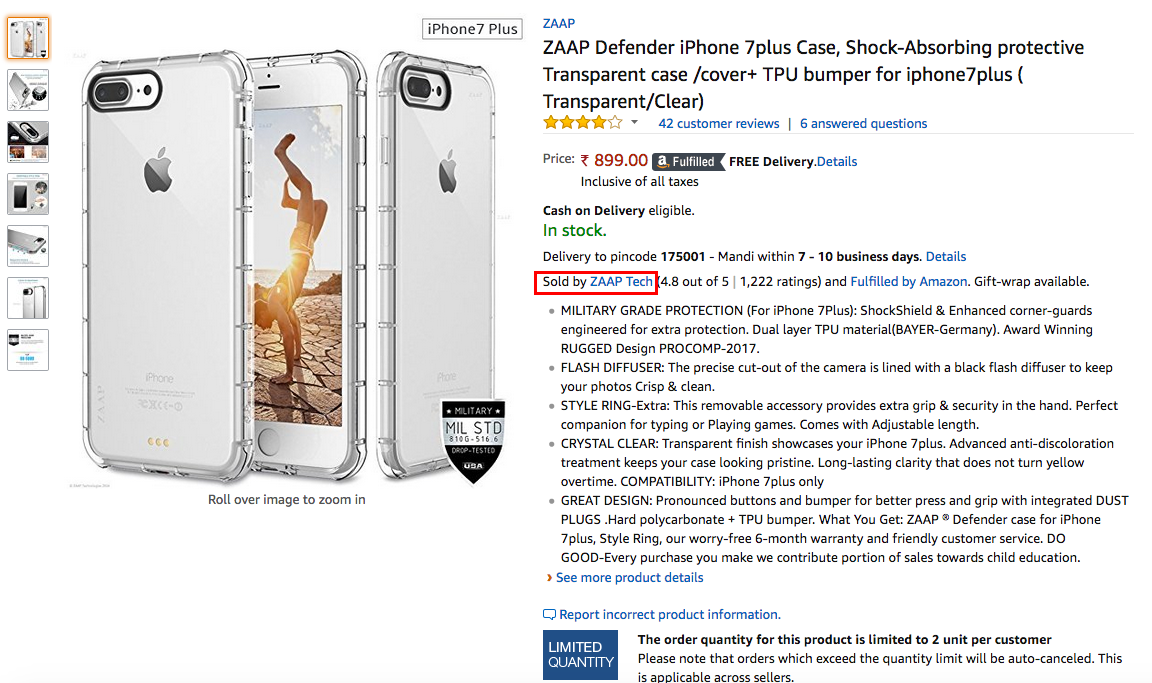 To be more clear about the topic, we can take some good examples such as Target sells variety of snacks from 'name brands', but it also sell chips and crackers under its own private label brand – Archer Farms. Target is a big name but it doesn't mean small or novice sellers can't have their own brand. You can choose a niche and start selling products under your brand label. For instance, you have decided to go online with personal care products. Now that's a broader area. You can choose one or two specific products that best sell under the category. Once you are determined that the product you have picked sell well on Amazon, you can directly contact a manufacturer and work on your packaging and branding. The manufacturer will make the same generic product but for the quantity you have specified, he will put your label.
This way a generic product becomes a private label. Thus, it is out of any competition and you also need not to distribute the profit margins.
Benefits of Private Labeling
From personal care to beverages, cosmetics, paper products, household cleaners and home decor items, there is a range of product categories you can choose to start with your own label. Here are some of the benefits of Private Label.
Increased Margins
Since you are going with your brand instead of any name brand, you are bypassing the vendor's as well as the middlemen margins. Moreover, you also get the complete access to price your product. It means, you can set the maximum retail price with 100% or in some cases 200% margins.
Less Competition
Often large companies do not go in niche products. This greatly reduce the competition for small sellers who start with niche categories. Moreover, only you know that it's a generic product. So you have the advantage to best describe your item. When you specify your product in a way that customers start believing it is different and better than others available, they choose your product.
Brand Building
Along with the packaging and labeling, you have the full control over manufacturing and quality of your product. By providing better quality, you can win the trust of your customers and build your brand. It is a fact that people remember and refer products that maintain the quality in long run as well as looks attractive. Just remember one thing, be ethical with what you deliver. Amazon has strict rules for unethical business practice.
Set Your Rules
When you sell branded items, you have to adhere with the company rules and regulations for everything from pricing to advertising and marketing. However, you can set your own rules for your brand and can amend them as and when required.
Control Over Production
As the manufacturer will work according to your instructions, you can set the quality parameters and keep the complete control of entire manufacturing and packaging process.
Customer Loyalty
Last but not the least, with private labeling you build a niche o customer who like to get more items from the same label. As you are an exclusive store, they will get it only from you. Thus, with your own label, you can also win customer loyalty.
Things You Should Consider When Going Live With Private Label
When you decide to launch your own brand on Amazon, there are certain things you should consider.
Choose the Product and Categories Wisely
It is very important. You don't want to get lost in the crowd. Therefore:
Avoid categories dominated by global or national brands
Avoid products that are easily available on high street or commodity products. If you choose one, make sure you add a differentiator.
Avoid overly complex products that require instruction manuals to operate or often need post-sales support.
Aim for product you can sell at decent margin instead of being tempted by low margins.
Small or lighter products will have lower shipping cost and lower storage and handling fees from Amazon.
Avoid fragile products as they will incur higher packaging cost, and have more chances of being damaged during shipping.
Do a Thorough Research
Before jumping over something, do enough research about the market, customer interests and long term survival perspectives.
Find keywords that describe your prospective product and see how competitors are making money with it.
Review customer ratings and feedbacks especially the negative ones to make sure you will avoid them.
Carefully study social media for trends and updated.
Be Ethical and Legal
Do not copy anyone. Even when you borrow someone's concept, make sure it isn't very close to the original. This is a kind of trademark infringement.
Carefully Select a Supplier
Most private label sellers choose to go overseas for manufacturing and sourcing of their products. Along with many custom formalities, this get more complex for shipping, quality analysis and control. So when you choose a supplier, get assured he is authentic. Track his past record and make sure you have everything on paper to avoid any risk.
See if Your Product is Searched and Found on Amazon
Whatever you pick and put online, if Amazon customers are not demanding for it, it won't sell. Moreover, even if demanded, if not optimized properly, the product won't come in top searches. So write a clear and concise product description, add high quality images, focus on positive reviews and convert product views into purchase.
Choose Fulfill By Amazon (FBA)
You are starting a new business. As a private label, you are already overloaded with manufacturing, packaging, pricing, and quality control. So let the shipping and fulfillment be Amazon's responsibility by opting for FBA. Using FBA means you need not to worry about warehousing and shipping. Also, customers will stay ensured that the product will reach them on time and in best condition because they trust Amazon.
Careful With Manufacturer
Since you are dependent on third-party for manufacturing your products, you have to be more vigilant in partnering with well-establish ones. This is because you need to maintain quality and you don't want to be in trouble if your manufacturer runs into problem.
Conclusion
By now, you have understood everything about Private Label Products. Going with your own brand is not easy but we always suggest sellers to go slow and steady. You can test the idea with a product or two and analyze the response. Along with the above mentioned points, there are many custom precautions that sellers have to consider in a particular category. The mentors and experts at AMZ Blast are always available to guide you for any confusion. what we suggest to our students is to work in one direction for assured success.
If you need to know more about why you should sell only private label products on Amazon, then our experts are more than happy to guide you.