In todays Blog, we'll talk about profitable products to sell on Amazon and Flipkart. Specifically, we're going to take one product which is Planter Stand.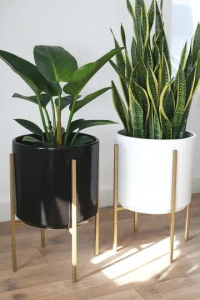 When we talk about best-selling items on Amazon, this doesn't necessarily mean Top 100 products in multiple categories. Your product selection will depend on multiple parameters.
Here's what you need to consider :
Demand in the current markets.
Competition assessment to conclude – Low level, mid and high level.
Finding Suppliers in wholesale market/import.
Customisation in product to make it better from other sellers.
Net profit after all expenses.
Planter Stand however is not a seasonal product. That's why we recommend you make it a Private label brand. For eCommerce sellers, Google trends come in handy and give you insights about seasonal trends of products with graphs.
Let's Check Planter Stand in Google Trends
---
The graph shows customer searches from March 2021 to 14 March 2022. It's clearly visible that customers search for planter stand every month. 
Moreover, AMZBlast team sends you 40 products pdf and video series every month. So, no need to worry about product selection as you have lots of options to choose from.
Currently, the best categories are Home and kitchen, Sports and fitness, Home decor, Toys section, Garden and outdoor have some of the best sales on amazon and flipkart.
So, let's take a look at one of the Best category to sell on Amazon starting with Garden and Outdoor with product Planter stand. 
Watch This Video
---
Planter Stand is a very popular niche product on Amazon. Based on different designs, pricing customers take decisions. There are wooden stand, aluminum planter stand, 2 tier metal stand, Indoor/ Outdoor stand etc.
Watch this Video on Niche
---
From Where To Source Your Product
One of the most frequently asked questions that we get is where to find product supplier. You have many options such as Local Wholesale Market, IndiaMart, Udaan, Deodap, Alibaba.com.
Once you've decided on the exact product, it's finally time to talk to the supplier for a sample product and order stock. Use Keyword Indoor Planter Stand and Click on Search.
Select 2-3 suppliers and check all cost parameters.
After selecting the product, finding a manufacturer now you have to work in packaging, calculating cost, working images, keywords and many more…
---
When you're creating listing Amazon asks for the HSN code and Product Tax code. If you're listing Planter stand then you can check the video where we discuss codes.
HSN & PTC Code Video
---
Once you've gone through the product selection process listing your product and launching it is your next step. Amazon is growing and have opportunities for sellers to expand business with private label brand. Millions of customers choose amazon over others 犀利士
and make multiple purchases.
If you need our help contact us through the live chat option on the website.
Alternatively, you can contact us through our dedicated phone number 8447649836, 6230448632 and 8219085163 or hello@amzblast.com